Ijeoma Nnodim Opara, M.D.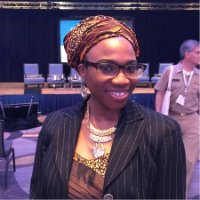 Ijeoma Nnodim Opara, M.D., FAAP,  Class of 2008, is a graduate of the Detroit Medical Center/WSU Internal Medicine-Pediatrics combined residency program. The double-board certified assistant professor of Internal Medicine and Pediatrics who served as chief resident is the associate program director of the Internal Medicine-Pediatrics residency and an attending physician with the Wayne State University Physician Group.
She is co-founding director of the Wayne State University Global Health Alliance, a multidisciplinary organization created to unify university and regional global health practitioners and create a collaborative community of best practice in global and urban health. She is the co-creator and co-director of the Global Urban Health & Equity curriculum, an innovative interprofessional comprehensive certificate and competency-based global health curriculum. She is also founding director of an innovative social determinants of health curriculum for internal medicine residents using critical reflection, the first of its kind in the state of Michigan.
Dr. Nnodim Opara provides clinical care to a chiefly underserved population, supervises resident clinics, and teaches inpatient and ambulatory medicine. Certified in Clinical Teaching by the Stanford Clinical Teaching Program, she is passionate about medical education, mentoring a number of residents and medical students in wellness, work-life integration, academic and career development.
A lead investigator in multiple interdisciplinary multi-center local and international research projects, she focuses on understanding how resilience can be leveraged to improve community health outcomes and convergence of implementation science in effective professional development in social determinants of health and health equity of health professional trainees. A certified facilitator in cultural competency and certified in Global Leadership by the American College of Academic International Medicine, she imbues every endeavor with her philosophy of ethical, culturally humble, patient-centered, evidence-based, high value, compassionate care and prioritizes attention to social determinants of health, disparities and equity in her comprehensive approach to patients.
Dr. Nnodim Opara has a long history of leadership in service to the African immigrant and African American communities, and co-founded Africans in Medicine. The organization's mission is to unite African medical professionals to further the health interests of Africans living on the continent and in the diaspora. Committed to advocacy, she serves as a member of the Wayne County Medical Society's Public Health Committee and the Consortium of Universities for Global Health's Network of Academic Advisers to improve policy development and support for global health and international development. She received the Detroit Medical Center's Most Engaged Physician Award, in recognition of her track record in community service and collaboration with colleagues and advocacy. She also received the Faculty of the Year Award, given by Internal Medicine-Pediatrics residents to the faculty member who best embodies the aspects of being a great clinician educator, including mentorship, teaching and humanism in medicine.