Ijeoma Nnodim Opara, M.D.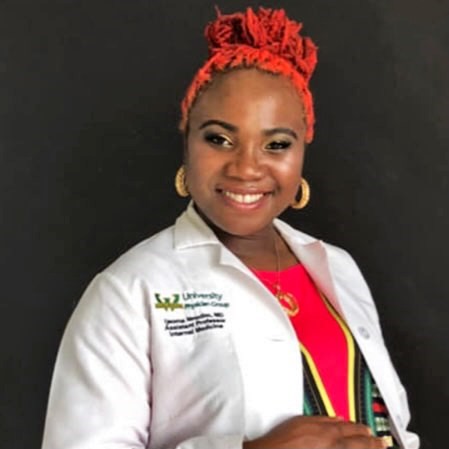 Ijeoma Nnodim Opara, M.D., FAAP,  Class of 2008, received her medical degree from Wayne State University School of Medicine (WSUSOM) and is a graduate of Detroit Medical Center (DMC)/WSUSOM Internal Medicine-Pediatrics combined residency program, after which she served as Chief Medical Resident. Currently, she is a double-board certified Assistant Professor of Internal Medicine and Pediatrics at WSUSOM, Associate Program Director of the Internal Medicine-Pediatrics residency, and attending physician with Wayne State University Physician Group.

She is the founding director of an innovative initiative and curriculum "Health Equity and Justice in Medicine" for internal medicine, internal medicine-pediatrics, and pediatrics residents which combines critical reflection, community engagement, scholarship, and advocacy to address social and structural determinants of health and health disparities. She is Chair of the SEMCME committee on social determinants of health education and the Detroit Medical Center Graduate Medical Education Center for Quality Improvement, social determinant of health section.
She is also co-founding director of Wayne State University Global Health Alliance, a multidisciplinary organization created to unify university and regional global health practitioners and create a collaborative community of best practice in global and urban health. She co-created and co-directs the Global Urban Health & Equity curriculum (GLUE), an innovative interprofessional comprehensive certificate and competency-based global health curriculum. She provides clinical care to a chiefly underserved population, supervises resident clinics, and teaches inpatient and ambulatory medicine. Certified in Clinical Teaching by the Stanford Clinical Teaching Program and an inaugural fellow of the Academic Leadership Academy of Wayne State University, she is passionate about medical education, mentoring a number of residents and medical students in wellness, work-life integration, academic, and career development. Her areas of academic interests are in health equity, justice, social and structural determinants of health, global health, and interprofessional education.
A lead investigator in multiple interdisciplinary multi-center local and international research projects, she focuses on understanding how resilience can be leveraged as an asset to improve community health outcomes and convergence implementation science in effective professional development in structural and social determinants of health, health equity, and social justice of health professional trainees. A certified facilitator in cultural competency (cultural humility and microaggressions) and certified in Global Leadership by the American College of Academic International Medicine, she imbues every endeavor with her philosophy of ethical, culturally humble, patient-centered, evidence-based, high value, compassionate care and prioritizes attention to social determinants of health, disparities, and equity as part of a comprehensive approach to patients.
She has a long history of leadership in service to the African immigrant and African American communities and co-founded Africans in Medicine, whose mission is to unite African medical professionals to further the health interests of Africans living on the continent and in the Diaspora. Committed to activism and advocacy, she serves as a member of the Wayne County Medical Society public health committee and the Consortium of Universities for Global Health's Network of Academic Advisers to improve policy development and US support for global health and international development. She also partners with multiple community based organizations to uplift the health of disenfranchised She is recipient of "Most Engaged Physician" award given by the Detroit Medical Center in recognition of her excellent track record in community service, collaboration with colleagues, and advocacy. She has also received "Faculty of the Year" award, given by the internal medicine-pediatrics residents to the faculty member who best embodies the aspects of great clinician educator, including mentorship, teaching, and humanism in medicine. Her hobbies include music, dance, theater, and writing. She is wife to Nkemjika and a proud mother of 3 beautiful girls: Ugochinyere, Oruebubechi and Chimamanda. 
Areas of Research
COVID19 testing and behavioral health initiative for the homeless, Detroit Health Department
Principal Investigator, Social Determinants of Health & Health Equity Curriculum: Multi-institutional and multi-disciplinary project to assess resident and faculty knowledge of social determinants of health, implement curriculum and assess curricular impact.
Principal Investigator, Freedom Cares Initiative (FCI): Development and Evaluation of an Asset-based Community-Driven Comprehensive Health Education Initiative to address Refugee by assessing baseline health status, level of health literacy, and design community-led interventions to improve health and healthcare literacy and self-sufficiency in health management.
Co-Investigator, Hopefulness and Resiliency in Pregnant women and Providers: International Bidirectional project to assess hopefulness and build resiliency among Rwandan and Detroit pregnant women to improvie maternal Health outcomes and their healthcare providers by adapting and implementing a Rwandan-originated hopefulness intervention. Robert Wood Johnson Foundation.
Principal Investigator, Association of American Medical Colleges (AAMC) NEXT award: To develop "Healing Between the Lines" curriculum in response to the legacy of Redlining on the health outcomes of communities in Detroit
Co-Investigator, ACHIEVE GREATER study - The ACHIEVE GREATER (Addressing Cardiometabolic Health Inequities by Early PreVEntion in the GREAT LakEs Region) NIH P50 Center. The center seeks to reduce overwhelming cardiometabolic health disparities and downstream Black-White lifespan inequality in two uniquely comparable cities: Detroit, Michigan, and Cleveland, Ohio. ACHIEVE GREATER includes three distinct but related projects that all focus on interrupting early stages of pathogenesis by addressing multiple domains of influence, including social determinants of health.  Our overarching goal is to mitigate health disparities in risk factor control for three chronic conditions that are of tremendous public health importance, hypertension (HTN), heart failure (HF) and coronary heart disease (CHD), which drive downstream lifespan inequality. Our strategy involves targeted outreach using community endorsed methods to enhance access to care for Black patients with multiple cardiometabolic risk factors who live in areas with extreme social vulnerability 
Co-Investigator, LEAP-HTN study - LEAP-HTN (Linkage, Empowerment, and Access to Prevent Hypertension) is part of the RESTORE (Addressing Social Determinants to Prevent Hypertension) Health Equity Research Network of multiple institutions. LEAP-HTN will deploy Wayne Health Mobile Units to provide direct, personalized health care and coaching to Black people with high blood pressure living in select under-resourced neighborhoods in Detroit. Community health workers will help people in the study develop and follow a personalized, flexible health plan.
Host: Weekly series - The Antiracism in Medicine Action Roundtable on Twitterspaces and Clubhouse @innodim 
Social media handle on Twitter and Clubhouse: @innodim 
Awards & Honors
Wayne State University College Teaching Award
WSUSOM Excellence in Teaching Award
African American Leadership Council Campaign Activist of the year
Distinguished Alumni, Wayne State University School of Medicine
AAMC Nurturing Experiences for Tomorrow's Community Leaders (NEXT) Award
AMA's Health Systems Science Student, Resident, and Fellows Impact Challenge
Academic Leadership Academy, Wayne State University
Excellence in Service, American College of Academic International Medicine (ACAIM)
Global leadership Award, American College of Academic International Medicine (ACAIM)
Distinguished Service in the Global Health Workforce
Semi-Finalist, Global Health Innovation Competition, Unite for Sight organization, Yale University
2nd Place, Global Health Initiative Poster Competition, Henry Ford Health System
Most Engaged Physician, Detroit Medical Center
Commendation, Course Development and Curriculum Design in Global Health, Allegheny College
Internal Medicine-Pediatrics Faculty of the Year, Detroit Medical Center
African and African American Achievement Award 2015 International Institute, Metropolitan Detroit
Community Service Leadership Award, Wazobia Global Network,
Distinguished Service Leadership, Wayne State University School of Medicine
Community Service Leadership, Wayne State University African Student Society
Profiles in Warrior Strong, WSU Board of Governors  https://today.wayne.edu/medicine/news/2021/06/29/wsu-board-of-governors-awards-dr-ijeoma-opara-with-profiles-in-warrior-strong-honor-42795
Abstracts
Kristiana Kaufmann,…Ijeoma Nnodim Opara (2019). Creating the Global and Urban Health and Equity Scholars Program using the Consortium of Universities for Global Health Toolkit. International Journal of Academic Medicine, 5, 198-239
Shah, Pranav,… Nnodim, Ijeoma MD (2018). Social media meets social determinants: An Innovative resident curriculum in social determinants of health. Journal of General Internal Medicine, 33, S669-S670
Ducharme, A. (2016). Clopidogrel-induced thrombotic thrombocytopenic purpura presenting as colitis. Journal of General Internal Medicine , 31, S583-S584
Committees
Educational Research Lead, Education and competency committee, Consortium of Universities for Global Health (National, International)
WSU Institutional Delegate, Consortium of Universities for Global Health
National Academic Adviser
Founding Board of Director and Accreditation Council for International Medical Programs and American College of Academic International Medicine (National, International)
Advisory Committee, Women Leaders in Global Health (International)
Implicit Bias Training Advisory Taskforce, State of Michigan (State)
Chair, Social Determinants of Health Committee, SEMCME (Regional)
Public health committee, Wayne County Medical Society (County)
Director of Education in Social Determinants of Health, Detroit Medical Center for Quality Improvement (Local)
Presentations
"Creating Culturally relevant asset-based interventions to address breastfeeding in Black communities"
National Maternal Health PCOR Network Symposium, Health Resources in Action, Boston, MA
Tale of a wailing wall: History of injustice and impact of health
Department of Emergency Medicine, Detroit Medical Center, Detroit
"Unequal Cut: Surgical disparities"
Department of Surgery, Grand Rounds, Detroit Medical Center, Detroit
"Teaching Social Determinants of Health in GME"
ACGME Educational Conference, San Diego, California, CA
"Challenges of teaching Global Health in the era of COVID-19"
Midwestern University of Global Health, University of Wisconsin, WI
Decolonizing Global Health" 
University of Maryland, Baltimore, MD
"Systemic Racism is Public Health Emergency The case of Redlining"
Keynote Speaker, Michigan United, Detroit, MI
"When Help is Harm" 
Schoolcraft College, Livonia, MI
"Why Neurologists Care about Social Determinants of Health" 
Department of Neurology Ground Rounds, Detroit Medical Center
"Interrupting Microaggressions Training Workshop" 
Office of Community Engaged Research, Wayne State University Department of Family Medicine 
"Implementing a Social Determinants of Health Curriculum in Graduate Medical Education"
Workshop  Accreditation Council of Graduate Medical Education, Educational Conference, San Diego CA
"A Rose is just a Rose…Global health is Local health" 
Consortium of Universities for Global Health Faculty, San Jose, Costa Rica
"The Intersection of Social Determinants of Health in Detroit and Rwanda" 
The Ihangane Project, Ruli, Rwanda
"Creating an Interprofessional Competency-Based the Global Health Curriculum" 
Consortium University Global Health International Educational Webinar, Washington, DC
"Global Health Practice and Social Justice" 
Keynote Speaker, School of Global Public Health, University of Michigan, Ann Arbor, MI
Publications
Stawicki, S., …, Opara, I.N., et al (2020) The 20192020 Novel Coronavirus (Severe Acute Respiratory Syndrome Coronavirus 2) Pandemic: A Joint American College of Academic International Medicine‑World Academic Council of Emergency Medicine Multidisciplinary COVID‑19 Working Group Consensus Paper. Journal of Infectious Global Disease. 12(2):47-93
Opara, I.N. (2020) Healthy Aging Blue Zones Report. Detroit Medical News Quarterly, Wayne County Medical Society of Southeast Michigan, 22-24
Hartwell, S., Opara, I.N., Kubiak, S., (2020). What the coronavirus crisis reveals about vulnerable populations behind bars and on the streets. The Conversation. https://theconversation.com/what-the-coronavirus-crisis-reveals-about-vulnerable-populations-behind-bars-and-on-the-streets-137455
Stanislaw P Stawicki,… Ijeoma Nnodim Opara…(2019). What's new in Academic International Medicine? Highlighting the need for establishing a national accreditation system for International Medical Programs. International Journal of Academic Medicine, 5, 151-155
Mateusz Plaza1,… Ijeoma Nnodim Opara,…(2019). The use of distributed consensus algorithms to curtail the spread of medical misinformation. Internatioanl Journal of Academic Medicine, 5, 93-99
Sona M Garg,… Ijeoma Nnodim Opara,…(2019). The Fourth Annual Academic International Medicine Congress (AIM 2019) in Philadelphia, Pennsylvania, July 2628, 2019: Advancing Global Leadership to Promote Health Equity. International Journal of Academic Medicine, 5, 198-239
Bell K… Ijeoma Nnodim Opara (2019). Atrial septal aneurysm with rare comorbid pulmonary arteriovenous malformation as aetiology for cryptogenic stroke. BMJ Case Reports CP 2019;12:e229282
Yeddi, Ahmed MD,…Nnodim, Ijeoma MD (2019). Acetazolamide-Associated Hyperosmolar Hyperglycemic Nonketotic Syndrome. American Journal of Therapeutics. doi: 10.1097/MJT.0000000000001050
Nnodim, Joseph; Nwagwu, Chinomso; Opara, Ijeoma (2020) Gait Disorders in Older Adults - A Structured Review and Approach to Clinical Assessment. Journal of Geriatric Medicine and Gerontology. DOI: 10.23937/2469-5858/1510101
Asare, Smart, Opara, Ijeoma N., et al. (2020) Sociodemographic Prevalence of Sarcopenic Obesity Among Gender in African American Population. SN Comprehensive Clinical Medicine https://doi.org/10.1007/s42399-020-00570-z
Mazumder, S, Opara, I.N. (2020) The mental health burden of social distancing during the coronavirus disease 2019 pandemic. International Journal of Academic Medicine. DOI: 10.4103/IJAM.IJAM_76_20
Modern Day Drapetomania: Calling Out Scientific Racism (2021) https://link.springer.com/article/10.1007/s11606-021-07163-z
It's Time to Decolonize the Decolonization Movement (2021) https://speakingofmedicine.plos.org/2021/07/29/its-time-to-decolonize-the-decolonization-movement/#:~:text=%E2%80%9CFor%20the%20master's%20tools%20will,to%20bring%20about%20genuine%20change%E2%80%A6 
CLOSLER MOVING US CLOSER TO OSLER - A MILLER COULSON ACADEMY OF CLINICAL EXCELLENCE INITIATIVE PASSion in the medical profession (2021) https://closler.org/passion-in-the-medical-profession/lessons-from-1865-what-clinicians-can-learn-from-juneteenth 
CLOSLER MOVING US CLOSER TO OSLER - A MILLER COULSON ACADEMY OF CLINICAL EXCELLENCE INITIATIVE - Lifelong learning in clinical excellence (2021) https://closler.org/lifelong-learning-in-clinical-excellence/when-no-to-others-means-yes-to-yourself 
Faculty Impact: Combining social justice with clinical practice (2021) https://provost.wayne.edu/news/faculty-impact-combining-social-justice-with-clinical-practice-46362 
https://scholar.google.com/scholar?start=0&q=ijeoma+nnodim+opara&hl=en&as_sdt=0,23 
Social Media