USAF (ret.) Chief Flight Surgeon David Snell, M.D., gives back to Wayne State for "taking a chance on me"
July 25, 2019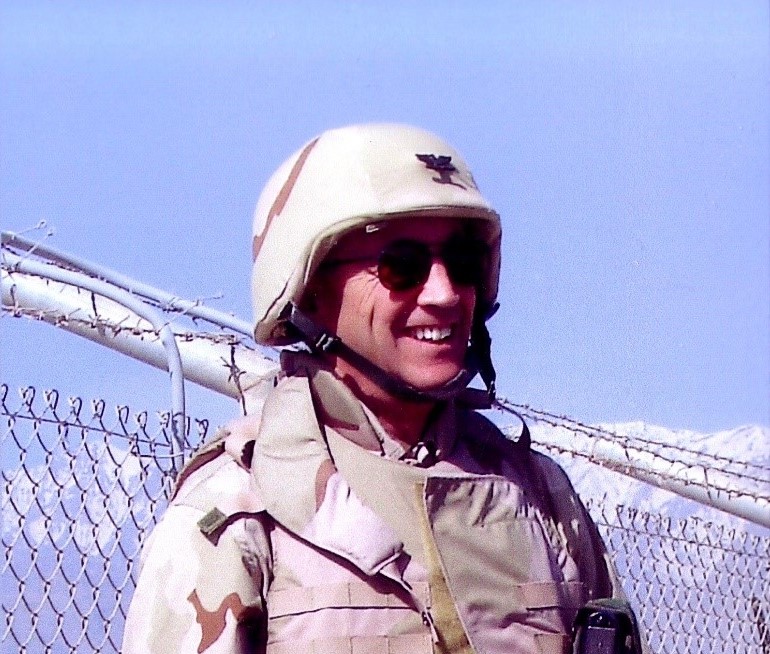 Col. David Snell, M.D. '78, was an unconventional medical student in the 1970s.
"I did not fit the traditional profile for someone applying to medical school," Dr. Snell said. "As an undergraduate, I majored in political science with the intention of going to law school." But during his undergraduate years he began serving as a firefighter/emergency medical technician (EMT). This sparked his curiosity in medicine.
"I realized my interests were somewhat along the lines of saving lives and stamping out disease — so I took the minimum courses required for medical school and applied during my first post-graduate year while doing EMS research as a Thomas J. Watson Foundation fellow."
The fellowship allowed Dr. Snell to travel to Europe and Israel, where he researched the emerging field of Emergency Medical Services and Disaster Response as one of the first fellows in the program.
"I was working with the British Fire and London Ambulance Services during the IRA (Irish Republican Army) bombings. I also served with Magen David Adom (the Israeli national ambulance service) and Swiss Air Rescue, flying air evacuation missions in the Swiss Alps," Dr. Snell said. "I was actually working with the Israelis during the aftermath of the Yom Kippur War when I received the telegram from my parents that I was accepted to Wayne State for medical school."
Dr. Snell's time overseas solidified his notion that his future medical career would be in emergency medical services. But it was before his time away that he met his mentor, Ronald Krome, M.D.
"I met Dr. Krome prior to starting my fellowship when he was looking for a research associate. He brought me into the fold of the Emergency Medicine working at what was then the Emergency Department—not room—at Detroit Receiving Hospital. It wasn't recognized as a separate specialty at the time, because there was no designated field for Emergency Medicine," Dr. Snell said. "But Dr. Krome had me working on research involving drug overdoses and treatment, and when I came back from my overseas fellowship he served as my faculty advisor and mentor."
Dr. Krome was instrumental in forming the American College of Emergency Physicians, an action for which Dr. Snell believes Dr. Krome deserves enduring recognition. Because of this, and his appreciation for Wayne State, Dr. Snell established the Ronald L. Krome, M.D., Endowed Scholarship in the School of Medicine. The scholarship will be awarded to fourth-year medical students who have matched into Emergency Medicine.
"Although Dr. Krome has passed away, he — and many others at Wayne State, actually, like Dr. Judy Tintinalli and Dr. Brooks Bock — blazed the path for establishment of the ACEP and the recognition of Emergency Medicine as a separate specialty," Dr. Snell said.
Already abreast of the innovative Emergency Medicine advancements from his time serving as an EMT, Dr. Snell had foundational knowledge that gave him an advantage during medical school — skills and knowledge he hoped to transfer to his classmates. Inspired by Wayne State's role in the budding field of Emergency Medicine, Dr. Snell implemented a lunch-hour Emergency Medicine lecture series during his time on campus. During these lectures, these pioneering figures in the field, who also happened to be School of Medicine faculty, spoke to students to help elicit additional interest.
"I always have been so appreciative of Wayne State, and even when I was in medical school I tried to give back," Dr. Snell said. "Another aspect of medical school that I greatly enjoyed was the opportunity to bond with so many of my classmates. With such a large class size, you wouldn't think our class would become as close as we did. But I am grateful that I formed deep connections with those in my cohort."
Dr. Snell credits Wayne State with boosting his confidence in his clinical abilities and his medical experience. After medical school and an internship at Wayne State-affiliated hospitals, he matriculated into a residency program in Internal Medicine with emphasis in Emergency Medicine. After residency, he became an Emergency Department attending physician at the Harbor-UCLA and San Bernardino County medical centers. While he was an attending, Dr. Snell experienced a life-threatening illness and hospitalization. He decided to re-evaluate his medical career and subsequently completed a residency program in Anesthesiology, becoming board certified in both Internal Medicine and Anesthesiology. He was then commissioned as an officer in the United States Air Force (USAF), undergoing further training and certification/rating as a USAF Flight Surgeon.
"I had always been passionate about flying and passed my civilian pilot exam while in medical school. After residency, I pursued military aviation service, but by that time I had passed the age limit for USAF pilot training and flying fighters. The Air Force offered me the next best thing — to become a flight surgeon. The rest is the history of 30 years of USAF service," Dr. Snell said.
As a flight surgeon, Dr. Snell flew rear seat in fighter aircraft (F-4s and F-16s), and deployed as a senior medical officer on joint assignments. He spent 30 years as a reservist and on active duty, serving overseas in combat theater deployments and working on a number of projects at bases in the United States. Dr. Snell went through the U.S. Air Force School of Aerospace Medicine and other military training. His duties as a rated flight surgeon included screening and approving pilots for initial pilot training, continued service and flying with them to understand the environment in which they functioned.
"The field of Aerospace Medicine is all about the man-machine interface and allowing us to help maximize the human performance in high-performance aircraft," Dr. Snell said. "Being in the Air Force and flying those jets … it's something that gets in your blood."
After military service, he continued to work for government agencies, serving as chief medical officer for both the California Department of Corrections and the Federal Bureau of Prisons.
Dr. Snell has had an unusual and exceptional career, both in the military and as a civilian, "but none of it would be possible without the School of Medicine taking a chance on me."
Through his endowed scholarship, Dr. Snell hopes to inspire students to consider the field of Emergency Medicine and learn more about those who have created the path they now walk.
"Even if I have the ability to have a small influence, I hope this support will really pique a student's interest in the origins of Emergency Medicine," Dr. Snell said. "I hope they receive the award and then read about the great Wayne State physicians like Dr. Krome, who helped to establish the specialty. It's appropriate for students today to know who did the trail blazing."
To learn more about creating a similar scholarship, or supporting the School of Medicine, contact Lori Robitaille at 313-993-4070 or lrobitai@med.wayne.edu.