Notable Alums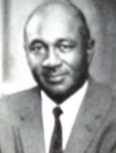 Specialty: Ophthalmology
Graduation Year: 1940
Howard Venable
Howard Venable was born Jan. 27, 1913, in Windsor, Ontario, Canada. He attended Wayne University, earning a baccalaureate degree in zoology in 1933, and his medical degree with honors in 1940. Throughout his training years, Dr. Venable worked as a professional musician to support himself, singing and playing the trumpet with artists such as Ethel Waters and Duke Ellington.

Dr. Venable wanted to pursue a career in Ophthalmology, but neither internships nor residencies were accessible to Blacks in Detroit at that time, so he applied for and secured an internship and Ophthalmology residency at Homer G. Phillips Hospital in St. Louis, Mo. The hospital was one of just a handful of Black hospitals in the United States that offered internships, residencies and specialty training to Black physicians.

In 1943, Dr. Venable became the first African American ophthalmologist to be awarded a master of science degree in Ophthalmology from New York University. He returned to St. Louis to join the Department of Ophthalmology at Homer G. Phillips Hospital. During his 36 years at Phillips, he taught and mentored more than 100 Ophthalmology residents, 39 of them African American students. He held high expectations for his residents, making sure they practiced on animals before treating any patients, because microscopes and other forms of magnification were not available. Dr. Venable knew that African Americans suffered from higher rates of eye diseases such as glaucoma and cataracts than did the white population, and the residents he was training would be very much needed in the Black communities.

In 1958, Dr. Venable joined the faculty of Washington University in St. Louis as its first African American staff member. He was chair of Ophthalmology departments at three St. Louis hospitals: Phillips, St. Mary's Infirmary and People's Hospital of St. Louis.

Dr. Venable left his position at Homer G. Phillips Hospital as chair of Ophthalmology in 1979, and in 1984, when Phillips closed due to funding issues, he and his wife Katie created the Venable Student Research Fund in Ophthalmology. The fund supported resident research projects and encouraged more Black students to join the ophthalmology field. It also provided funding for housing and for needed equipment, such as microscopes.

Having enjoyed an illustrious medical career, Dr. Venable retired from practice in 1987. In 1994, he became the first African American to be awarded the American Academy of Ophthalmology's Outstanding Humanitarian Award. Dr. Venable died in 1998.