Notable Alums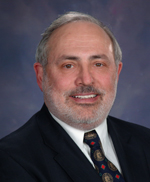 Specialty: Cardiology
Graduation Year: 1974
Roger Kahn
Roger Kahn, M.D. '74, is an invasive cardiologist and a former Michigan state senator, representative and member of the Saginaw County Board of Commissioners. He is board certified in Internal Medicine and Cardiovascular Disease.

Before graduating from the Wayne State University School of Medicine, Dr. Kahn attended Delta College and Michigan State University. After receiving his medical degree, he completed a fellowship in Cardiology at William Beaumont Hospital before returning to Saginaw to practice.

Dr. Kahn worked to bring, improve and expand the Saginaw area's cardiac services, forming the Heart Group, which eventually became the foundation for the Michigan Cardiovascular Institute. In Saginaw, he introduced the balloon pump, modern pacemakers, more than half a dozen outreach clinics and initiated two cardiac surgery programs, an interventional program and an electrophysiology program. He also served as president of the Saginaw County Medical Society and chaired its Ethics-Mediation Committee.

Dr. Kahn's honors include Delta College's Distinguished Alumnus Award in 1998, the American Heart Association's Heart of Gold Award in 2002 and the WSU School of Medicine's Distinguished Alumni Award in 2011. That award is presented annually to one or more alumni who have made outstanding contributions to humanitarian causes, whose contributions to the health field in the broader sense are outstanding or for service to the Wayne State University School of Medicine. He has received two presidential citations from the Michigan State Medical Society.

A background in community involvement led Dr. Kahn to public service. This started with donating time to Saginaw's free medical clinic. He became a member of the Saginaw County Board of Commissioners from the 13th District (2003 to 2004), a state representative for the 94th district, representing part of Saginaw County (2004 to 2006) and a state senator for the 32nd district, representing Saginaw and Gratiot counties ( 2007 to 2014). He chaired the Michigan State Senate Appropriations Committee, when for the first time in 20 years state budgets were produced in a timely manner. Among his legislative achievements were bills eliminating lead paint from children's toys; rewriting and passing The Healthy Michigan Bill, which has provided health insurance to more than 600,000 people (so far); passing the largest spending increases in the nation for early childhood education; and providing ongoing funding to restore and maintain the State Capitol. He also rewrote the School Employees Retirement Act to make it fiscally sound, saving more than $10 billion.

His background of community involvement also includes Big Brothers (college), the Rotary Exchange Program, the Saginaw Community Foundation and the Saginaw Chamber of Commerce Board. He has supported the Saginaw Rescue Mission, was honorary chair of fundraising for Pit and Balcony, has been a board member of the Jane's Street Clinic and donated time to Saginaw's free medical clinic. He supported Buena Vista High School with scholarships through its ROTC program and Saginaw Valley State University through the Marshal Fredericks Art Gallery. He has been a major donor to the Saginaw Art Museum. He is a board member of Michigan's Children and the Saginaw County Fair. Nationally, he is a member of Fix the Debt.

Dr. Kahn is affiliated with the Michigan Cardiovascular Institute in Saginaw and continues to practice medicine.