Notable Alums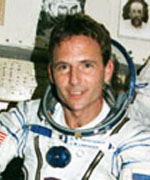 Specialty: General Preventative Medicine
Graduation Year: 1981
Jerry Linenger
United States Navy Capt. Jerry Linenger, M.D. '81, M.S.S.M., M.P.H., Ph.D., is a board-certified preventive medicine specialist, an author and keynote speaker, and a retired astronaut.

Before receiving his medical degree from the Wayne State University School of Medicine, Dr. Linenger received a bachelor's degree in bioscience from the U.S. Naval Academy in 1977. After completing surgical internship training at Balboa Naval Hospital, San Diego, and aerospace medicine training at the Naval Aerospace Medical Institute in Pensacola, Fla., Dr. Linenger served as a naval flight surgeon at Cubi Point, Republic of the Philippines, and as medical advisor to the Commander, Naval Air Forces, U.S. Pacific Fleet, San Diego.

Later Dr. Linenger earned a master's degree in systems management from the University of Southern California, and both a master's degree in health policy and a doctorate in epi-demiology from the University of North Carolina. He returned to San Diego as a research principal investigator at the Naval Health Research Center, and served on the sports medicine faculty at the University of California, San Diego School of Medicine.

In August 1992, Dr. Linenger joined astronaut selection Group XIV at the Johnson Space Center, and in September flew on the space shuttle Discovery mission STS-64 (Sept. 9-20, 1994), logging more than 10 days in space. He then trained (in Russian) at the Cosmonaut Training Center in Star City, Russia, in preparation for a long-duration stay aboard the Russian Space Station Mir. In January 1997, he flew on the space shuttle Atlantis (STS-81) to Mir, returning in May, after more than 132 days in space, the record duration flight for an American man at that time. This included a five-hour spacewalk, the first by an American from a foreign space station in a non-American spacesuit. He carried a Wayne State University School of Medicine flag with him on the mission. That flag is now displayed in Scott Hall.

Dr. Linenger retired from NASA and the U.S. Navy in January 1998. He has written two books about his time in space, "Off the Planet: Surviving Five Perilous Months Aboard the Space Station Mir" and "Letters from MIR: An Astronaut's Letters to His Son." He lives with his family in northern Michigan.