Notable Alums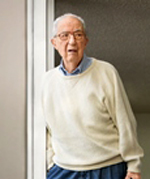 Specialty: Family Medicine
Graduation Year: 1942
George Mogill
George Mogill, M.D. '42, is a retired Family Medicine physician affiliated with William Beaumont Hospital in southeast Michigan. He received his bachelor's degree in biological sciences from WSU in 1937. He graduated from the Wayne University College of Medicine in 1942, completed a one-year surgery internship, and then joined the United States Army Medical Corps in 1943.

He landed in Normandy four days after D-Day, caring for patients in the Army's 8th Field Hospital in France and Germany. He moved home to complete his residency when the war ended.

He opened his Detroit office on Second Avenue, and rounded at Grace Hospital in the morning and at lunch, seeing 30 to 40 patients a day. His mother was the office nurse. He also visited homebound patients referred by the Wayne County Medical Society.

He moved his practice to Royal Oak for a time before returning to a WSU-affiliated medical school clinic to secure the school's Family Medicine residency. He joined the School of Medicine's faculty in 1972 as a clinical instructor in the Department of Family Medicine. He continued to teach throughout the 1990s and into the 21st century.

Dr. Mogill was chief of the Department of Family Practice at Harper-Grace Hospital from 1977 to 1984 and later at Sinai-Grace Hospital. He was named an honored alumnus of the Alpha Omega Alpha Medical Fraternity in 1980. He received the Southeast Michigan Quality of Care Award presented by Pfizer Inc., in 2000. In 2006, he received both the Exemplary Teaching Award from the American Academy of Family Physicians and the Lifetime Achievement Award from the Michigan Academy of Family Physicians. He is a lifetime member and former board member of the School of Medicine Alumni Association. In 2016, he received a special Lifetime Achievement Citation for his meritorious loyalty and commitment to the School of Medicine, the field of medicine, and the teaching and mentoring of medical students and residents.

The George Mogill, M.D., Endowed Award for Family Medicine – a gift to the school established in 2000 by a former patient of the doctor – is presented annually during Match Day to a graduating senior committed to specializing in Family Medicine. The award is based on qualities and characteristics exemplified by Dr. Mogill, including scholastic achievement, compassion, volunteerism, leadership, respect of peers, and a sense of humor and joyfulness.