Notable Alums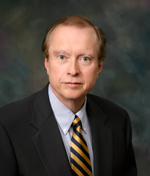 Specialty: Ophthalmology
Graduation Year: 1968
Donald B. Muenk
Donald B. Muenk, M.D. '68, is a native Detroiter who completed his undergraduate and medical studies at Wayne State University, followed by an internship at Harper Hospital. Beginning in 1969, Dr. Muenk served for two years in the U.S. Army Medical Corps in the Office of the Surgeon General in Washington, D.C.

He returned to Detroit for a three-year residency in ophthalmology at Kresge Eye-Wayne State University-Harper Hospital during their merger years, followed by a fellowship at the Harkness Eye Institute, Columbia Presbyterian Medical Center in New York City. While in New York, he spent some time with Charles Kelman, M.D., at Manhattan Eye and Ear.

A fellow of the American College of Surgeons, diplomat of the American Board of Ophthalmology, fellow of the American Academy of Ophthalmology, fellow of the American College of Eye Surgeons and fellow of the Detroit Academy of Medicine, Dr. Muenk is the founder and managing partner of Cataract and Eye Consultants of Michigan. He is a specialist in small-incision cataract lens implant surgery, laser surgery and glaucoma management. He is the chief of Ophthalmology at St. John Macomb-Oakland Hospital and served six years on the Board of Directors of Detroit-Macomb Hospital Corp. He was appointed clinical assistant professor of Ophthalmology for the WSU School of Medicine in 1996.

He is a member of the American Medical Association, the American Academy of Ophthalmology (past councilor), the Michigan State Medical Society (Board of Directors, 11 years and numerous committees), the Macomb County Medical Society (past-president), the Michigan Society of Eye Physicians and Surgeons (several committees), the Wayne State Medical Alumni Association (past-president, Board of Governors), the Medicare Carrier Advisory Committee (current co-chair), and has served and chaired numerous committees dealing with health care delivery, and payment and policy issues for medical specialties for more than 30 years.

In 2005, Dr. Muenk received the Wayne State University School of Medicine Alumni Association's Distinguished Alumni Award, presented annually to one or more alumni who have made outstanding contributions to humanitarian causes, whose contributions to the health field in the broader sense are outstanding or for service to the Wayne State University School of Medicine.