Notable Alums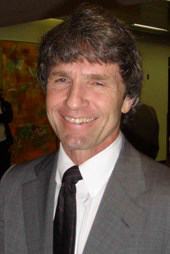 Specialty: General Surgery
Graduation Year: 1980
Lawrence Diebel
Lawrence Diebel, M.D., graduated from the Wayne State University School of Medicine in 1980 and began his surgical training at the University of Minnesota until he realized that the grass on the other side of the fence is not always greener and returned to Detroit to complete his surgical residency training in 1986. After completion of his residency, he joined the faculty and became an extraordinarily busy general surgeon, a successful researcher and a strong contributor to southeast Michigan and beyond.

In addition to directing surgical residents in the technical skills of complex surgeries, he is a favorite bedside teacher of surgical residents. He is known for his many contributions to the Michigan trauma and acute care community. He has been a prime mover in Michigan for promoting the Advanced Trauma Life Support Course, the Advanced Surgical Skills in Emergency Trauma Course, the widespread utilization of ultra-sonography in the care of injured patients and definitive open surgical fixation for unstable flail chest.

Nationally, Dr. Diebel has become the most productive surgical scientist within the WSU Department of Surgery and typically has a paper on each of the national programs. He has published more than 100 national peer-reviewed articles. His ongoing research activities can be described as both "basic research" in the laboratory and "clinical research" regarding patient care, which has continued to keep him at the forefront on the national scene. His department chair, Donald Weaver, M.D., has identified him as the research leader within the Department of Surgery. Dr. Diebel is director of the prestigious annual Detroit Trauma Symposium, the longest-running trauma conference in the United States.

Dr. Diebel received the WSU School of Medicine Distinguished Alumni Award in 2018.