Notable Alums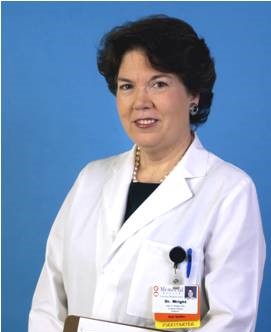 Specialty: Pediatrics
Graduation Year: 1978
Jean Wright

Jean Wright, M.D. '78, a specialist in pediatric anesthesia and intensive care, is vice president and chief innovation officer for Atrium Health, based in North Carolina and the second largest public health care system in the United States.

She has served as chief of Pediatric Intensive Care for the Emory School of Medicine, chief medical officer for Children's Healthcare of Atlanta, executive director of Savannah Women's and Children's Hospital, and professor and chair of Pediatrics for the Mercer School of Medicine.

She is a fellow of both the American College of Critical Care Medicine and the American Academy of Pediatrics. Dr. Wright is a member of the Academy of Pediatrics Committee on Child Health Finance, and is active in national and statewide initiatives and policy statements regarding the financing of pediatric health care. She is also active in ACHE, the National Association of Children's Hospitals and Related Institutions, and as a speaker and trustee for the Christian Medical and Dental Association. She has been a member of the Federal Advisory Committee for the U.S. Centers for Disease Control's Task Force on Fetal Alcohol Effects, and the Advisory Board of the Fogarty International Center of the National Institutes of Health.

"It was at Wayne that I first had an experience in the Pediatric Intensive Care Unit. Working alongside Dr. Arcinue and Dr. Ashok Sarniak made a big impression on me. It was early in the Reyes epidemic, and the combination of physiology, pharmacology and ICU care was early in its application in PICU areas," Dr. Wright said. "Dr. Marvin Jewell in Pediatric Anesthesia was a mentor and role model. Dr. Roberto Pourcho in Anatomy encouraged my interest in research. And Dr. Marilyn Heins showed me a path in administration. Because of those experiences, I became a pediatric anesthesiologist and intensivist, an academician and an administrator."

The author of 50 papers and book chapters and the recipient of $15.9 million in federal grant funding for population health studies, Dr. Wright is a recognized leader in Predictive Analytics and Cognitive Science. She has given testimony before the U.S. House and Senate, and has appeared on "20/20," "The O'Reilly Factor" and CNN. In 1998 she was awarded an honorary doctorate of divinity degree from Westminster College, and in 2000 she was recognized by the American College of Physician Executives with the Physician of Excellence Award. She has been awarded the Athena Award for Women in Leadership and named one of the top 30 health care chief innovation officers in the country.