Notable Alums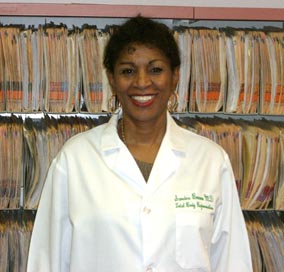 Specialty: General Preventative Medicine
Graduation Year: 1981
Sandra Brown
Sandra Taylor Brown, M.D. '81, Res. '85, was an adjunct professor of Medicine for the Wayne State University School of Medicine.

Dr. Brown developed a topical, non-surgical treatment that dissolves keloids that is also effective on scars, burns and shaving bumps. Additionally, she secured several patents, including one for a gel that reverses many types of alopecia and male and female pattern baldness.

"The Wayne State University School of Medicine culture is based on an immense amount of community involvement. This was very apparent during my stay at WSU, and as a result it became instilled in me," she said. "I am very grateful and honored to be a Wayne State School of Medicine alumni, as they propelled me to be who I am today."

Dr. Brown was named a Top 10 Michigan Women Business Owner of Distinction by the National Association of Women Business Owners in 2004. She received the 2002 National Sojourner Truth Award from the National Association of Negro Business and Professional Women's Clubs. In 2000, she received the Outstanding Humanitarian Award from the Beta Phi Beta Sorority (Alpha Chapter) for her outstanding and dedicated service to the people of the community. The Detroit News named her Michiganian of the Year in Medicine in 1998, which was a humanitarian award for her development of solutions and techniques that reverse previously untreatable keloids, scars, and burns. In 1981, she received the Sherry Love Award from the School of Medicine for outstanding academic achievement in pre-clinical diagnosis, and she was named Woman of the Year by the Wayne State University Graduate Division for receiving the most headlines in the metropolitan Detroit area for outstanding medical treatments.

Now retired, Dr. Brown continues to donate her time and expertise to help care givers in the inner-city.